Asialink Car Loan - Requirements, How It Works and Latest Low Interest Promos
As one of the top loan brokers in the country, Fast Loan Philippines offers assisting clients to the different top lending companies and banks today. We update our profile and knowledge for our clients so they won't bother learning about the latest interest rates, promos, policy updates and how the process works in applying for a car loan in the Philippines.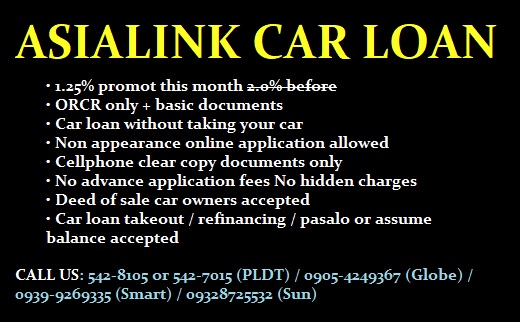 3 Major Types of Asialink Car Loan Program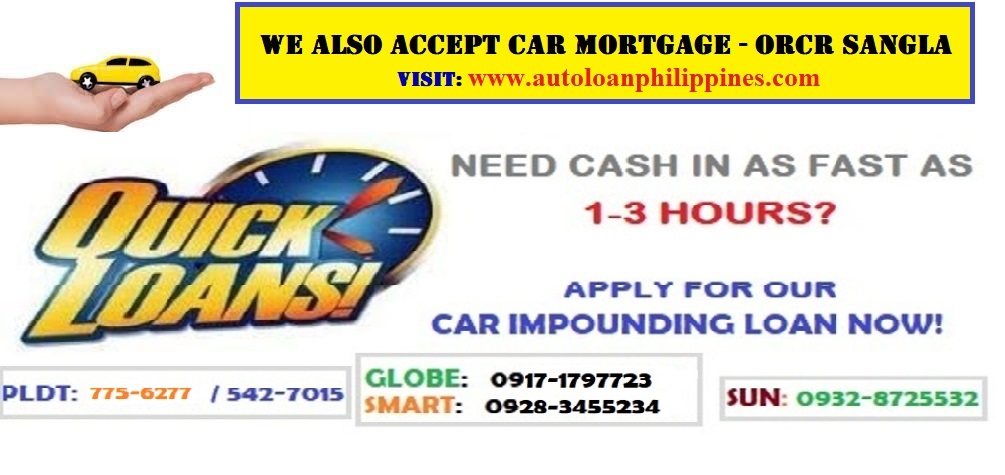 Currently, there are just 3 major types of car collateral loan offers from Asialink (ALFC) and other affiliate lending companies, Global Dominion and South Asialink Credit Corporation. These are car financing and car collateral loan.

The same products for car pawning is available with local banks except most of them would not allow ORCR sangla or car loan without taking car program which utilizes using any 2000 year model used car or 2nd hand car owners to use their vehicles as collateral in exchange of getting a loan or credit line. Furthermore, bank process, if they offer kotse sangla will take 2 weeks to 2 months to process.
We are pioneer in providing loan consultation and free application assistance service to Pinoys, OFW and foreigners looking to get loan for a car. We take pride in our efficient and personalized service and provide free quotation using simple loan calculator. Having first hand knowledge in how the process works gives our agents and marketing officers the advantage to assist loan borrowers for fast loan release which can be as quick as 1 day for auto loan pawnshop companies. We rarely assist with bank application for the sole reason that it usually does take too much time to waste trying to process an application. Another good thing in hiring us to assist you in your application for a private car loan is that you get to directly compete these private lending companies to offer you the lowest interest rate possible you can get as a loan borrower.
ORCR Sangla

- Otherwise known as the car loan without taking car program, here, private car owners can use their vehicle as collateral while having the privilege to use it for whatever purpose. This advantage is not usually found being offered by banks. Furthermore, being one of the most in-demand secured loan programs in the Philippines,

OR/CR sangla

or kotse sanla is the most practical collateral loan any auto owner can avail today.

2nd Hand Car Financing

- This particular product is ideal for those who are looking to buy used car with year model 2000 and newer. Having a 3rd party which is the car dealer or private seller requires this product to be processed a little bit longer. But with the cooperation of the other party, all is well and easy.

Car Loan Takeout

- Sometimes dubbed as car refinancing or pasalo or car loan assume balance, this product takes longer to process having the bank as the third party. The reason is because banks won't usually allow your car financing loan to be transferred to a competing private lending company. This is where Asialink car loan program takes borrowers to another level. Here, the owner of the car can avail extra cash from out of the excess value of the car based from a maximum of 80% fair market value estimate.
Although not necessarily part of the secured loan product offers of Asia Link, another very fast cash loan turnout is currently available in the market. This is the car impounding loan. Here, you leave your car, keys, original ORCR and no questions asked. You get your cash in as fast as 1-3 hours but not more than 5 hours depending on the number of clients during time of application.
If you want to apply for our 1 hour car loan program thru impounding, please click on the link below.
Fill Up Our Asialink Car Loan Form for Faster Transaction
There is a related collateral loan product but does not necessarily fall as part of the list above. This is the truck loan. It has the same variants as listed offers above. If you want to apply or is looking to pawn your truck without taking the unit, please click on the link below.
Loan Borrower Eligibility Criteria
To qualify for any of the above mentioned Asialink car loan programs, a borrower must first meet certain eligibility requirements. Below is our list. Please note that this list is subject to change without prior notice. It is also subject to approval of the lending company and is subject to existing company policies, rules and regulations for qualification.
At least 21 years of age; 59 years old upon loan maturity
Must have a regular source of income enough to pay for the loan amount approved after the processing but no minimum income.
No derogatory records with banks and other financing companies (negative cmap)
Must be willing to submit documents as required by all undergoing processing departments.
Asialink Car Loan Requirements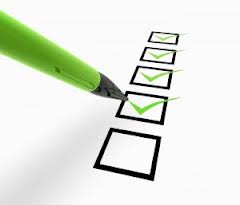 Basic Loan Requirements:
Copy of OR/CR (bring original for comparison purposes)
Any 2 government-issued IDs or primary IDs
Latest electric or water bill
3 months latest proof of income
TIN ID / ITR or any proof of TIN
Note: Other documents may sometimes be required by Asialink Financing Corporation depending upon the request of processing departments or as necessary to meet policy guidelines.