Alternative OWWA Balik Manggagawa Loan - Fast No Collateral No Comaker / Coborrower and No Post-Dated Check Required at 1.75% Promo Low Interest Rate
Returning OFW with return ticket and contract? Apply now for our Balik Manggagawa Loan!
This is the best alternative to the OWWA loan offer for balikbayan Pinoys returning here in the Philippines who want to put up any form of investment or business. Apart from the super fast process thru our assistance here at Fast Loan Philippines, the interest rate is comparable to that of bank OFW loan programs.
The Balik Manggagawa Loan is also much easier and faster to process compared to what is offered by OWWA to returning overseas worker Filipinos. It literally takes months and OFWs will have to undergo a rigid seminar and business related trainings before he or she can qualify to borrower cash money from OWWA thru Landbank of the Philippines. This was earlier stated in the official website of the bank as well as the Overseas Workers Welfare Organization.
How to Apply for Balik Manggagawa Loan?
Just for the purpose of clarification, this type of unsecured non collateral loan had its most popular name in the guise of OFW loan. It may also be called as the migrant loan or Pinoy Abroad Loan, a credit option for Pinoys who are already working or have been living abroad but with regular paying jobs as their source of income (capacity to pay for loan).
While this is a fact, other local seafarers in the country also see this particular loan as an opportunity to get cash as a legitimate member of the OWWA agency of the government. Therefore, some sailors sometimes mistaken this loan as the seaman loan which is actually an exclusive credit program offered by both banks and many private lending companies. As a loan solution to those looking to get additional fund for a business, investment or personal use, the Balik Manggagawa Loan is just perfect. Below are the list of the different familiar requirements comparable to your very well known OFW loan.
You can read a very useful guide on how to avoid getting declined of your OFW loan application.
Procedures in Applying for Balik Manggagawa Loan
Processing of a loan approval will take as fast as 1 day or same day release of cash proceeds. Processing starts after complete documents are submitted to the company or assisting marketing specialist of loan consultant.
Undergo a less than 1 minute pre-qualification interview with our marketing officers. Here you will be asked to disclose your complete full name (including your middle name) and date of birth + other basic personal details. This is just for the purpose of checking your banking credits and c-map or credit map. Also your position, country of destination, departure date and how much monthly basic salary. This is to avoid wasting your time only to find out you don't qualify later. It's for your own good so be sure to cooperate and exert extra patience is the questions.
Submit documents either via online thru email, Viber, IMO, WhatsApp and other applications or by coming over in person. We strongly suggest to submit online for faster processing and a possible non-appearance application and to avoid hassle of falling in line with other applicants at the office.
Wait for a call or email confirmation from our marketing officer that your documents were already received and fill up the application which will be sent outright after requirements are received and verified.
Wait for an interview call from the handling account officer for your loan folder. Here, all disclosed information in the application form and from your documents will be critically verified thru question and answer interview. Be sure to be polite and respectful. This will be part of your attitude test as well as patience test. Those who fail with this test and interview will be automatically declined for reasons of attitude problem. Be mindfull and avoid disclosure of excessive expenses and other payables. This will have a negative impact on your capacity to pay. NEVER disclose that the purpose of your loan is for placement fee... You will be declined as per new lending laws in the Philippines today.
Your documents will undergo a 3-department close assessment and rigid checking of details, banking credits, previous loans, unpaid credits, court cases (if there is any) and repetitive calls and information confirmation. Be sure to act patient form these repetitive questionings. Just answer as necessary and no need to lie.
Final checking of credentials and document details.
Loan approval
Loan confirmation and disclosure of charges, interest rates and all figures.
Releasing of loan
Balik Manggagawa Loan Requirements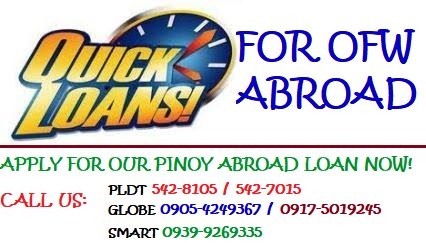 Download and fill up application form H E R E.
POEA validated latest contract or COE
OEC (latest overseas employment certificate)
Latest and updated / valid passport
e-ticket or return ticket
visa
2 valid primary IDs (government-issued)

latest water or electric bill - (don't have to be under borrower's name)
Co-borrower (immediate family member or spouse coborrower)

Provide all BM docs + 3 months latest payslips or remittance receipts
Interest Rate, Payment Terms and Other Advantages
Interest rate is currently on promo for year 2018 at only 1.75% instead of 2.49% last year and 3.75% the preceeding years.
Payment term is up to 1 year or equivalent to how many months left in the contract which may be equal but not more than 12 months in total. This is just a short-term non collateral loan which means that if you have a very impressive no miss payment in your monthly amortization, you will be given the chance to renew your loan as early as 6 months duration while loan is active.
NO PDC / CHECKING ACCOUNT NEEDED !
NON APPEARANCE PROCESSING!
GUARANTEED NO HIDDEN CHARGES!

OPEN TO ALL OFW HERE OR ALREADY ABROAD !
WITH LOAN PA YMENT GRACE PERIOD!
ONLINE APPLICATION ALLOWED!

PAYMENT THRU MONEY REMITTANCE CENTERS ONLY !