Pinoy Abroad Loan - Fast Cash for Immigrant, Citizen, Seaman, OFW Already Abroad and Allottee of Overseas Filipino Workers 1.5% Promo for 2019

Pinoy Abroad Loan is the combination of OFW loan, migrant loan, seaman loan and the allottee loan for sea-based and land-based workers. No! This is not a placement fee loan. For 2019, we are on promo low interest rate of only 1.5% instead of 3.75%. No personal appearance required. Online interview via video streaming only.
Remember that you are not allowed to use the words "placement fee loan" as a reason why you are trying to get credit. Otherwise, your application will automatically be declined. With out PAL program, you cannot qualify to apply if you are not already abroad for land-based workers and onboard for seafarers. If that is your case, please visit our regular OFW Loan page.
Fill Up Form To Avail 1.5% Low Interest Promo Instead of 3.75% Before
PLUS GET DISCOUNT ON PROCESSING FEE!!!
NOW ONLY 5% INSTEAD OF 9% BEFORE ONLY IF YOU FILL UP BELOW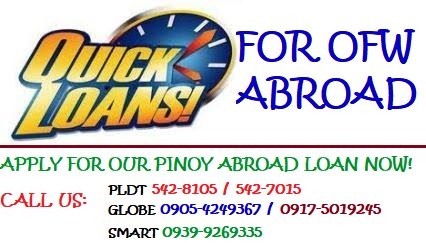 If you are you a land based OFW or seafarer already working abroad. Or perhaps an immigrant with a regular job overseas? And yes! even if you are an allottee or remittance receiver here in the Philippines, Pinoy Abroad Loan is just right for you.
One of our lending company providers have already opened up this new unsecured non collateral loan product with easy to produce requirements. New lending company policy also reveals that Filipinos whether OWWA member or not and migrant or citizens of another country may qualify to apply for this loan. Mechanics are very easy and requirements are even made easier to produce.
To explain further and let overseas Filipino worker borrowers understand about the new migrant personal loan, I'd like to open our lines here at Fast Loan Philippines for questions below. Call us and we would be glad to answer all your inquiries or simply chat us through our online Facebook messenger account here - https://web.facebook.com/pautangsapinoyofw/. For those who are comfortable with applying online, read more below or fill up our online form for faster processing and to achieve sure approval.
NO PDC / CHECKING ACCOUNT NEEDED !
NON APPEARANCE PROCESSING!
GUARANTEED NO HIDDEN CHARGES!

OPEN TO ALL OFW HERE OR ALREADY ABROAD !
WITH LOAN PA YMENT GRACE PERIOD!
ONLINE APPLICATION ALLOWED!

PAYMENT THRU MONEY REMITTANCE CENTERS ONLY !

Who and How to Qualify for Pinoy Abroad Loan?

All OFW of either category as land-based or sea-based are qualified to apply for this loan for as long as you have at least 20K monthly basic salary.
OFW must be available for a video call to screenshot actual conversation and interview as well as facial snapshot for the main borrower.
Must be able to provide at least 3 consecutive remittance proof whether thru remittance receipts or bank statement of ATM or any bank account where the family money is being sent.
Coborrower immediate family member is required and may not have an income on a case to case basis.
An employment verification thru email is a must
Both the OFW and his coborrower must be willing to comply to all company policies and will sign a loan contract before releasing of cash loan proceeds.

Seafarers

and land-based OFW workers, both must have a medium or any application to use for a video call interview (ex. IMO / Whatsapp / Skype / Google Hangouts / Viber / Facebook Messenger etc.)
How to Get Approved for Pinoy Abroad Loan the Easy Way

Simple rules apply when trying to get your application for our Pinoy Abroad Loan program approved. As the allottee or coborrower, you have to be patient and cooperate in helping provide all documents, additional information and requirements (if needed) and be sure to ask if anything is not clear so we can address all your concerns prior or during processing period of your loan application. Always be courteous and respectful to all parties involved at the office or thru phone. 
Always be ready to answer questions in a nice manner thru interview which may sometimes be repetitive and patience testing. Remember that your application goes through different lending company departments and the people behind each don't share the same opinion and judgement as the others. All company policies and rules governing your loan application applies to all. No exception!
So when you are asked to provide a documents or information that may sometimes be a bit hard for you to give, be polite to ask for any alternatives. Don't capitalize in the problem, think of solutions. This will absolutely help speed up the process of your loan approval.
Pinoy Abroad Loan Requirements

Borrower Requirements:
COE or job contract from COMPANY with salary certificate

3 months latest payslip

Latest and updated / valid passport

page of passport/visa with stamp on last arrival to country of work/residence

copy of visa

2 months latest proof of remittance to Philippines (remittance receipts or bank statement)

2 valid primary IDs - company ID and Philippine ID (pwede SSS or voter's ID or any Philippine government issued

 ID)

Latest water or electric bill in Philippines residence of OFW - (doesn't have to be under borrower's name)

Co-borrower spouse / common law spouse or immediate family member (kapatid or parent na 60 y.o. below or anak na 21 y.o. above)
Coborrower Requirements:
2 valid primary IDs of coborrower

marriage contract if wife and birth cert of OFW and children or sibbling if child or sibbling will be the coborrower

3 months latest remittance receipts or 3 months bank statement if money is received thru bank transaction or ATM

coborrower mobile number or Viber number and landline so we can call you for particulars
Jan 01, 19 09:11 PM

ORCR meaning and what other uses of your OR/CR in the Philippines today. Apply for our ORCR loan now and get low interest rate promo in 2019!

Aug 24, 18 12:53 PM

Alternative to OWWA Balik Manggagawa Loan for overseas Filipino workers about to depart with return ticket and contract related documents. Free to apply now with promo low interest at 1.99% instead of…

Aug 19, 18 12:47 AM

Find out information about Asialink car loan program. See latest interest rate, promo offers and calculator. Apply here online now!