Credit Card Loan - 1 Day Low Interest Bank Personal Loan in the Philippines
Philippine credit card loan is a personal and non collateral loan offer with super fast loan proceeds releasing and low interest rate from banks. Although of an unsecured type of loan nature, banks offer this cash credit with very low interest rate compared to collateral loans like a car loan or a house and lot collateral loan.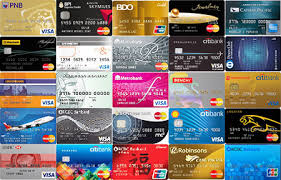 FIll Up Our Form Below to Apply for Credit Card Loan
All questions marked with asterisk is required to be answered
Philippine Credit Card Loan - List of Cards that Allow Use for Cash Credit

There are so many credit cards from different banks that offer you instant cash just by applying to the bank provider directly or through an agent. But basically, there are just 2 types of cards - the mastercard and visa card.
Below are some of the most prestigious bank credit cards in the Philippines today that offer credit card loan convenience just by having an account. These banks would sometimes send spam unsolicited text messages to users and account holders offering their quick loan in 1 hour or even less. There are even customer service agents and bank employee dedicated to only making calls to account holder mobile phones offering you to avail of the "promo"  tagline - "you are chosen to be given the privilege to apply for cash loan". See the large list of growing credit cards in the Philippines below.

Citibank Card
SCB or Standard Chartered Bank Card
HSBC Card (Hongkong and Shanghai Banking Corporation)
EastWest Bank Card
Security Bank Card
BPI Card (Bank of the Philippine Islands)

BDO Card (Banko de Oro)

Metrobank Card (Metropolitan Bank)

RCBC Card (Rizal Commercial Banking Corporation)
Union Bank Card

PNB Card
Maybank Card
UCPB Card

Each of the listed bank credit card providers above have their own marketing offers and names with which to call their different credit cards with. There are those that are dedicated primarily with targeting people who have cars by offering gasoline card. There are those that offer a specific type of credit card for use in one of the leading drug stores in the Philippines - Mercury Drug, thereby calling their card as Mercury Drug Card. There are those that are intended primary to cater to people who love to travel and buy tickets and banks call their plastic card as Sky Miles. A Hyundai Card or a Toyota Card is for those who have specific types of cars while there are promo cards intended to give discounts to patrons of mall markets like Forever 21, SM Mall, Robinsons Mall and the like. The most popular however are those that offer cash back and rewards if you use your credit card to specific affiliates and providers on their list.
Annual Fees and Balance Transfer Offers:
Be extra careful when using your credit card to make balance transfers. Some fees apply and if you are not cautious about these charges, you might be surprised when the next bill arrives in the mail box. As a currently functional and existing system, I would like to tip you off if you own a credit card in the Philippines that if you are a regular user for years, you can opt in to waive annual fees  which is the biggest charge that appears yearly in your bill.

Pros and Cons in Applying for Credit Card Loan

Advantages come in packages and if you are not wise enough to read the terms of service and loan contract in case you wanted to apply for a loan using your credit card, you might end up with more disadvantage later than of convenience in getting fast cash out of your plastic card. See these pros and cons so you know what to do to avoid ending up with bad credit status, worse, with cancelled card and bad credit c map under your name.

Advantages

Offers fast loan

Low interest rate

Easy requirements

Fast cash turnover

No need for co-borrower




Disadvantages

You may end up with bad credit

Terms are subject for review

Hard to pay up when you fail due to big interest computations for penalties

How to Qualify, Interest Rates, Payment Terms and Requirements for Credit Card Loan

Different bank providers have different set of documentary and pre-qualifying requirements if you want to use your credit card to apply for cash loan. Below are just some of the basic things you need to know regarding this issue.
How to Pre Qualify:
Must be Filipino citizen
Must own a credit card
Loan Payment Terms:
Payment terms range from minimum of 12 months or 1 year up to 36 months or 3 years.
Call and Look for – Sir
Sam Casuncad
Office phone: 542-7015 (Sam) / 542-8105 (Vina)
Sun No 0932–872 5532
Smart No

0939-9269335
Globe No

0905–4249367 / 0917-5019245 (with Viber, IMO and Whatsapp)
Email application form to
info.fastloanph@gmail.com / info.ofwloan@gmail.com
Documents Needed:

2 valid primary IDs
Your credit card account number
Latest electric bill or any qualified proof of residency and billing.
Interest Rates:

Banks offer as low as 1% interest rate for using your plastic card to get cash from a bank provider. With BDO website, I found out they only give 0.99% interest while others would give 1.3%.
To inquire about any exact figures or to ask for a quotation using a loan calculator, you may visit your bank's official website or call their respective hotline telephone numbers. You may also drop by at any nearby bank branch to apply for the credit card loan directly.