Call Center Agent Loan - Low Interest Philippines BPO Salary Loan for CSR
Customer service agents rejoice! We are opening our call center agent loan offer for all CSR workers who are employed in the top 100 BPO and call center outsourcing businesses / companies in the Philippines. To know more about the different requirements, interest rate, loan terms, processing fee and how to qualify, please read more below or fill up our application form or call us ASAP.
Note that this is a newly opened type of salary loan for call center agents who are rank and file employees and do not occupy higher positions in the BPO industry but belong to the top 100 call center companies in the Philippines (see our list below). Furthermore, to qualify to apply, you do not need to have big income, we accept applicants who have low basic salary from 15K monthly and above. Ask Fast Loan Philippines about this newly opened loan in March 2015.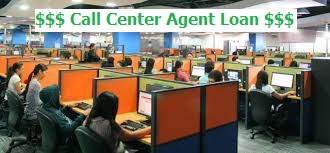 Call Center Agent Loan Application Form

Requirements and How to Qualify to Apply for Call Center Agent Loan in the Philippines

As part of our trial offer for the newly opened unsecured, non-collateral personal loan for call center agents in the Philippines, we are making the standards a bit easier to qualify for this loan. Below are some of the initial qualifying requirements as set by our Philippine lending company provider.
Pre Qualifying Requirements:

At least 15K basic salary as stated in the payslip and certificate of employment or contract.
Employed in one of the top 100 call center companies in the Philippines.
Must be employed in his or her company for at least 2 years.
Can provide 1 co-borrower immediate family member with income or a nearest relative with income.
Documentary Requirements:
2 valid primary IDs
latest electric bill or water bill (original and photocopy) (not necessarily under your name but must have same address as your 2 valid IDs). (there may be times a proof of billing will be required on a case to case basis) (we do not accept any other proof of residence)

1 immediate family member or relative co-borrower / co-maker with income
1 month latest payslip and certificate of employment (to prove 2 years employment requirement)
Co Borrower Requirements:
2 primary valid IDs
1 month latest payslip
latest electric bill or water bill

Possible Loanable Amount:
Loanable amount for call center agent loan is from 20K - 50K.
Loan Payment Terms:
Payment terms for this salary loan for this rank and file customer service agents range from 6 months to 1 year.
Who May Apply:
CSR employee who have been employed to their company for at least 2 years (rank and file or supervisory positions) who belong to the top 100 BPO providers in the Philippines.
Mode of Payment:
Loan payment may only be made through issuance of PDC or post-dated checks. (still ongoing for development with other options for mode of payment for the loan)

Call and Look for – Sir
Sam Casuncad
Office phone: 542-7015 (Sam) / 542-8105 (Vina)
Sun No 0932–872 5532
Smart No

0939-9269335
Globe No

0905–4249367 / 0917-5019245 (with Viber, IMO and Whatsapp)
Email application form to
info.fastloanph@gmail.com / info.ofwloan@gmail.com
Please fill up our loan application form below for faster turnout of your application form and pre-evaluation of personal details. We will immediately subject you to a 1-3 minute pre-qualifying interview as soon as we receive your information.

Top Call Center Companies in the Philippines in 2015

Released January, 2015 by tech blogger, Yugatech, here is the list of top earning BPO / call center companies in the Philippines as of 2015, January. If you want to apply for our call center agent loan offer this year, please be guided accordingly as the list is absolutely a way to qualify.

1. Accenture Inc. (Php32.429 billion)
2. Convergys Philippines Services Corp. (Php19.830 billion)
3. 24/7 Customer Philippines Inc. (Php13.061 billion)
4. JPMorgan Chase Bank N.A.-Philippine Global Service Center (Php11.789 billion)
5. Telephilippines Inc. (Php8.722 billion)
6. Sutherland Global Services Philippines Inc. (Php8.080 billion)
7. Hewlett-Packard AP (Hong Kong) Ltd. (Php7.081 billion)
8. Stream International Global Services Philippines Inc. (Php6.924 billion)
9. Teletech Offshore Investments B.V. (Php6.590 billion)
10. IBM Daksh Business Process Services Philippines Inc. (Php6.307 billion)
11. Sitel Philippines Corp. (Php6.084 billion)
12. TeleTech Customer Care Management Philippines Inc. (Php5.654 billion)
13. Manila-Oslo Renewable Enterprise Inc. (Php5.605 billion)
14. IBM Business Services Inc. (Php5.599 billion)
15. Aegis PeopleSupport Inc. (Php5.474 billion)
16. Coca-Cola Far East Ltd. (Php5.439 billion)
17. Sykes Asia Inc. (Php5.415 billion)
18. Shell Shared Services (Asia) B.V. (Php5.289 billion)
19. Deutsche Knowledge Services Pte. Ltd. (Php5.258 billion)
20. HSBC Electronic Data Processing (Philippines) Inc. (Php5.035 billion)
21. Telus International Philippines Inc. (Php5.010 billion)
22. Luen Thai Macao Commercial Offshore Co. Ltd. (Php4.336 billion)
23. IBM Solutions Delivery Inc. (Php4.293 billion)
24. VXI Global Holdings B.V. Philippines (Php4.049 billion)
25. Macquarie Offshore Services Pty. Ltd. (Php4.026 billion)
26. ACS of the Philippines Inc. (Php3.917 billion)
27. Citibank N.A. Regional Operating Headquarters (Php3.710 billion)
28. SPi CRM Inc. (Php3.551 billion)
29. Emerson Electric (Asia) Ltd. (Php3.481 billion)
30. Chevron Holdings Inc. (Php3.271 billion)
31. StarTek Philippines Inc. (Php3.123 billion)
32. Genpact Services LLC (Php2.846 billion)
33. West Contact Services Inc. (Php2.815 billion)
34. Hinduja Global Solutions Ltd. (Php2.795 billion)
35. SPi Technologies Inc. (Php2.767 billion)
36. ANZ Global Services and Operations Manila Inc. (Php2.503 billion)
37. Sykes Marketing Services Inc. (Php2.493 billion)
38. Maersk Global Service Centres (Philippines) Ltd. (Php2.324 billion)
39. Manulife Data Services Inc. (Php2.191 billion)
40. Lexmark Research & Development Corp. (Php1.963 billion)
41. ExlService Philippines Inc. (Php1.907 billion)
42. Cognizant Technology Solutions Philippines Inc. (Php1.892 billion)
43. Thomson Reuters Corp. Pte. Ltd. (Php1.877 billion)
44. Citigroup Business Process Solutions Pte. Ltd. (Php1.816 billion)
45. Acquire Asia Pacific Philippines Inc. (Php1.789 billion)

For those of you who are interested to apply for call center agent loan, you need to have the right qualifications and with this case, you might want to see a relevant post on where to study TESDA call center agent training.

Jan 01, 19 09:11 PM

ORCR meaning and what other uses of your OR/CR in the Philippines today. Apply for our ORCR loan now and get low interest rate promo in 2019!

Aug 24, 18 12:53 PM

Alternative to OWWA Balik Manggagawa Loan for overseas Filipino workers about to depart with return ticket and contract related documents. Free to apply now with promo low interest at 1.99% instead of…

Aug 19, 18 12:47 AM

Find out information about Asialink car loan program. See latest interest rate, promo offers and calculator. Apply here online now!