Calamity Loan Guidelines and Form - Info, Hotline Numbers and Areas Included
Are you a Typhoon Lando victim? Know guidelines if you qualify to apply for calamity loan emergency fund release. Download the application form for free at the official government website. If you live in any of the areas hit by the recent typhoon which landed in Philippine area of responsibility recently, then you might just be legible to a claim of the said loan offered by 3 of the biggest Philippine government agency in the country.
To know the deadline and which areas are included in the list of allowed member by SSS, GSIS and Pag-Ibig members, please visit the respective official websites of the government agencies involved in the release of funds as listed above.
This special emergency grant of a calamity relief package is open for members and pensioners affected by Typhoon "Lando" in calamity areas declared by the National Disaster Risk Reduction and Management Council (NDRRMC).

SSS, Pag-Ibig and GSIS Calamity Loan Hotline Telephone Numbers

Below is the list of the respective hotline telephone numbers as reported in the news tonight, October 20, 2015 in lieu of the recent calamity stricken by Typhoon Lando. You can call for particulars to know who and which areas qualify to apply for the different government offered calamity loan program by the 3 major agencies. You may also call them to ask for requirements and how to pre-qualify. They are as follows:
GSIS Hotline: 8474747
SSS Hotline: 09206446-5
Pag-Ibig Hotline: 7244244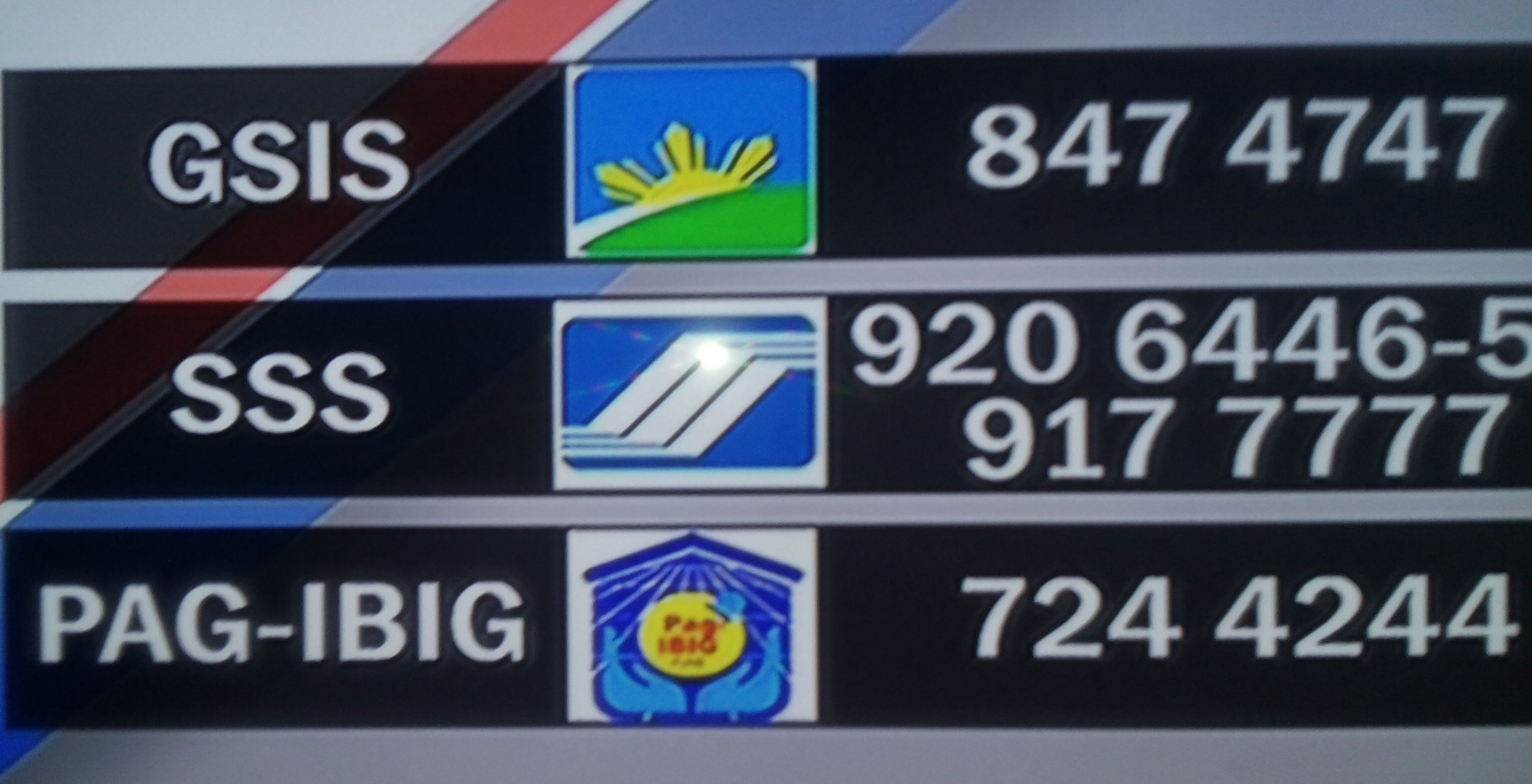 The SSS Calamity Loan Offer

Know which programs you can enter to qualify to avail of the calamity loan offer by SSS, GSIS and Pag-Ibig Fund (HDMF) (Home Development Mutual Fund).

Through the SSS program, a qualified member or senior citizen retiree may enter into the SSS calamity loan program if he or she is living in any declared calamity hit area through the salary loan early renewal program, SSS direct house repair and improvement loan program and the SSS and employees' compensation program as listed below.

Pag-Ibig Fund Program Interest Rate and Loanable Amount

As per ABS-CBN news report today, the Home Development Mutual Fund (HDMF) otherwise known as Pag-Ibig Fund offers as much as 80% loanable amount based from the member's savings while payment term may range up to as long as 2 years mortgage program while the pre-determined interest rate ranges at 5.95% per annum (per year).
To know the areas allowed and qualified by the Pag-Ibig Fund as calamity stricken areas, please visit the NDRRMC or nearest branch in your area for confirmation.

MDRRMC Declared Typhoon Lando Covered Areas and Calamity Relief Program

The whole calamity loan program of the 3 major agencies of the Philippine government is set to start at a tentative date set to begin on October 26, 2015 depending on the NDRRMC declaration. As for now, the beneficiaries are all still waiting for the final bulletin posting of the areas covered by the program hit by Typhoon Lando.
Pangasinan
Nueva Ecija
Isabela
Typhoon Lando 2015 Video

You can watch an official video as posted by the Inquirer.Net Youtube page below.

Even Metro Manila was not spared by the latest strong typhoon with signal #2 raised. Below is a video taken during the height of the wrath by Typhoon Lando as it floods the whole of the Metro.
GSIS, SSS and Pag-Ibig Fund (HDMF) Free Application Form Download

The different government agencies offering relief and emergency fund to victims of typhoon each year that visit the Philippines have their respective loan application form. Below is our list of the free downloadable document from SSS, GSIS and Home Development Mutual Fund. Please be guided accordingly.
Jan 01, 19 09:11 PM

ORCR meaning and what other uses of your OR/CR in the Philippines today. Apply for our ORCR loan now and get low interest rate promo in 2019!

Aug 24, 18 12:53 PM

Alternative to OWWA Balik Manggagawa Loan for overseas Filipino workers about to depart with return ticket and contract related documents. Free to apply now with promo low interest at 1.99% instead of…

Aug 19, 18 12:47 AM

Find out information about Asialink car loan program. See latest interest rate, promo offers and calculator. Apply here online now!